I have been working on wrapping up some new orks units to add to what is one of my oldest armies. This army has a very high model count, because orks are not the greatest of fighters individually, but in large groups can really make a mess. 
Up first are a unit of the biggest and roughest orks, called Nobz. They are the lieutenants of the ork armies, just a level below the leader who is called a Warboss. The Warboss is the huge guy in the back of this picture. He is an absolute monster in the game. You do not want to mess with this guy.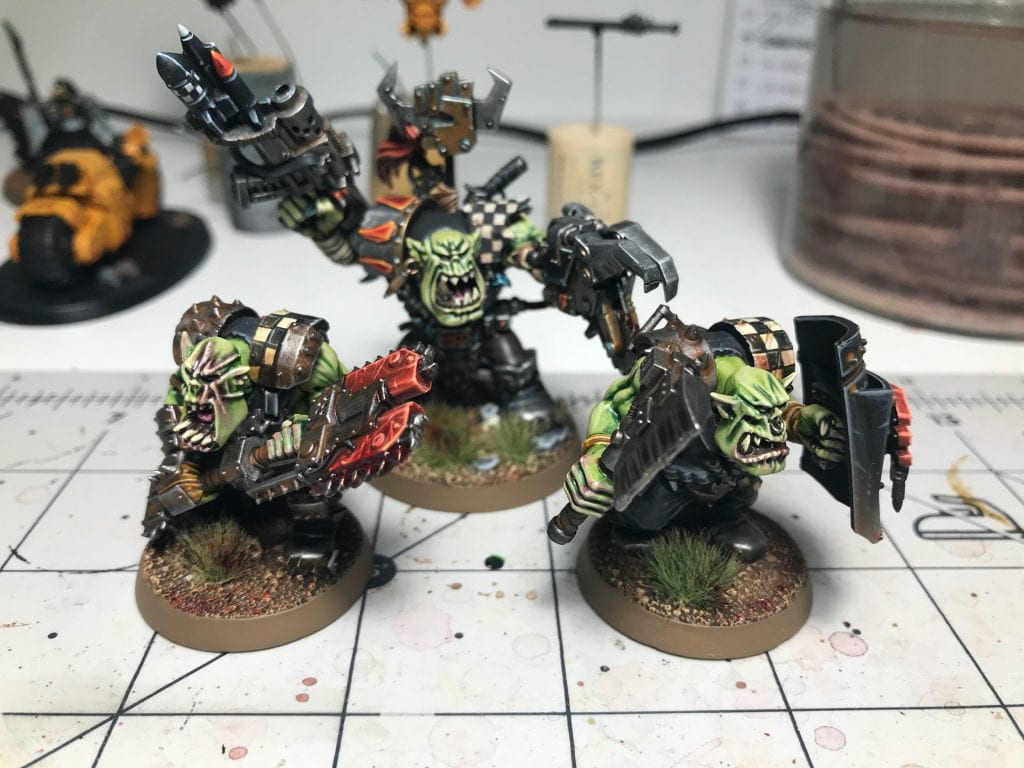 I am really happy with how they came out, especially the guy with the grot (small ork) getting a piggyback ride. This unit is designed to be up close fighters, often fighting right next to the Warboss.
Next up is a single model in what will be a squad of five. I hadn't painted anyone quite like this guy before, so I wanted to test one out before I committed to doing the whole unit. I love how he came out, especially his ridiculous, over the top weapon. In the lore, these guns are lovingly handcrafted and bolted together to make something that is unbelievably destructive. They often will blow up in the users hands, rather than shoot at the enemy. 
The pirate hat is what really sells this guy for me. I also like how his weapon and the checks on his shoulder pad came out.
I also worked on the underlings for the orks, called Grots. Now these little guys are the workers and slaves of the orks. They are not treated well and generally live a pretty lousy life. Here is the first batch of them. The guy holding the "flag" is named Creacher, after the grumpy House Elf in Harry Potter. Here they are…