Over winter break I always have a nice amount of time to get some painting done, and this year was no different. The rainy, dreary days of winter are a perfect excuse to just be inside, put some good music on and get lost a bit in creating. Hope you found something that fits that bill also.
I worked on finishing some older projects as well as starting some brand new ones. First up is a veteran of my Imperial Fists army. I added a shield to his armor, and decorated it with some heraldry as a way to show that his squad has reached veteran status in the game my son and I play.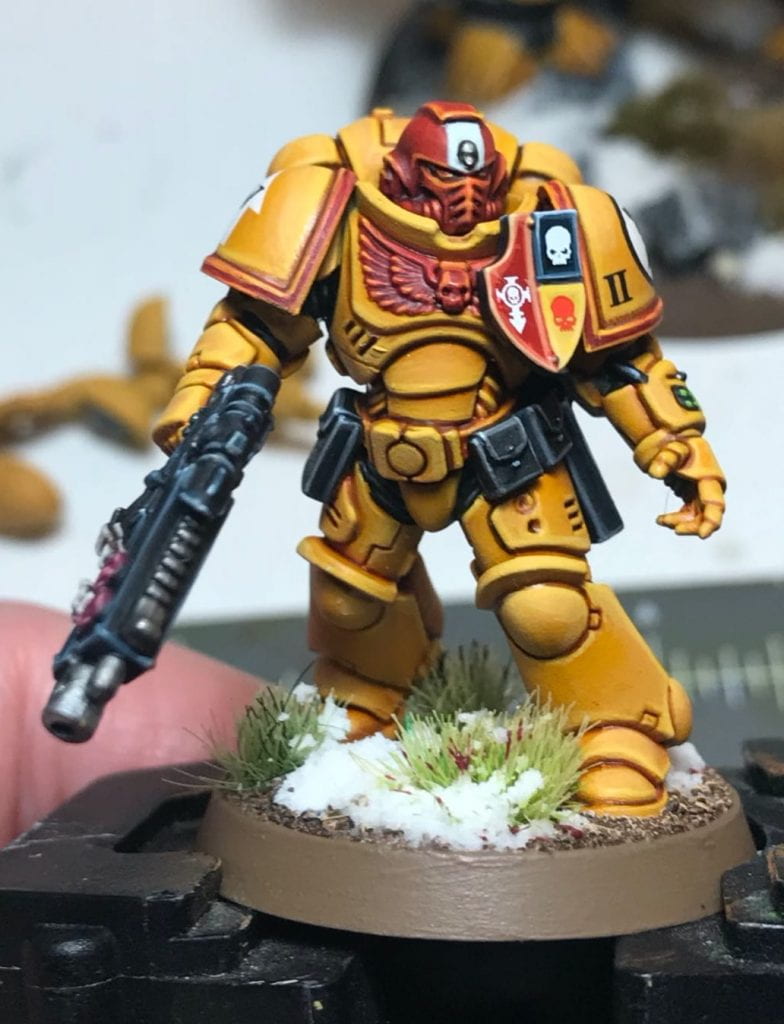 He is also joined by this first of three bikes. These take quite a bit of time to do so it may be a white until I have the other two finished. This is the Sgt of the squad. I am really happy with the battle damage on the sides of the bike, where dirt and debris would damage the paint.
Changing gears completely for my rat army for the other game we play (so many games ;). This guy has a spiraling rocket launcher that depending on the dice roll when you use it could damage his enemies, or go out of control and hit his allies.
I like how the robes came out here. Worked hard on smooth transitions.
For Christmas I got a new kit that goes with this army. If you have wondered what they look like without any paint on them whatsoever, here is a shot of a new unit, fresh after being built. All the pieces in front are left of to make painting easier. The sand on the base is literally sand from the Outer Banks. When you paint it up, it looks just like dirt.
Last up are a few players from a fantasy football game that I play (and love). This team is the Skaven Team (rats) and are my favorite team to play with. I have finished 3 out of the 12 on the team and have been really motivated to get them finished because a new version of the game just came out and it is awesome.
The guys below are basic lineman. They block and tackle and do the grunt work for the squad.
Now this guy is called a rat ogre. He is a dangerous beast created to maul anyone in site, often his own teammates. I really like how his armor and fur came out.