So it turns out that there is one, and only one good thing about Covid 19. With all the time spent at home, and with not a lot to do, having a hobby that you absolutely love is huge. And, with tons of time to kill because you are not allowed to go anywhere else, why not set up and do some hobby?
I usually have lots of different projects going, and my time during quarantine was no different. I was working on a number of projects at the same time and also working on getting through the backlog in my hobby drawer of shame.
First up are the rats. Yes, rats. This army for a fantasy game I play with my son called Age of Sigmar is a war game that has lots of different races of creatures battling it out for supremacy. I had a 20 man unit that I was working on all at once, which is far more than the 3 models at a time that I usually paint. This unit came out really well. I am especially happy with the banner. I didn't include a picture of all 20, but they all look like the models below.
I also worked on 2 artillery pieces for this army, to give it some long range punch. Great against my sons army of lizards.
Up next was an army for a futuristic game called Warhammer 40k, that takes place 40,000 years in the future in a Sci-Fi world that is pretty grim.
The yellow soldiers (called Imperial Fists) are super soldiers who fight for humankind and its survival.
I finished a squad of scouts below…
and a new leader called a Chaplain.
I also included this shot of the leadership for this army. That is my commander in the front.
Last up is another futuristic army called the Death Guard. Spoiler alert, they are bad guys. With a name like that, you could have guessed. They are old and rotten and have vehicles that are full of rust and decay. I tried some new techniques to model this on to a tank that I was working on.
I am happy with the steaks of rust and grime that I was able to get with this tank.
Last up is ANOTHER army for the futuristic game and my largest army, the Orks. These guys love to fight and although they are not very bright, they overwhelm their enemy with tons of soldiers just rushing ahead to battle it out.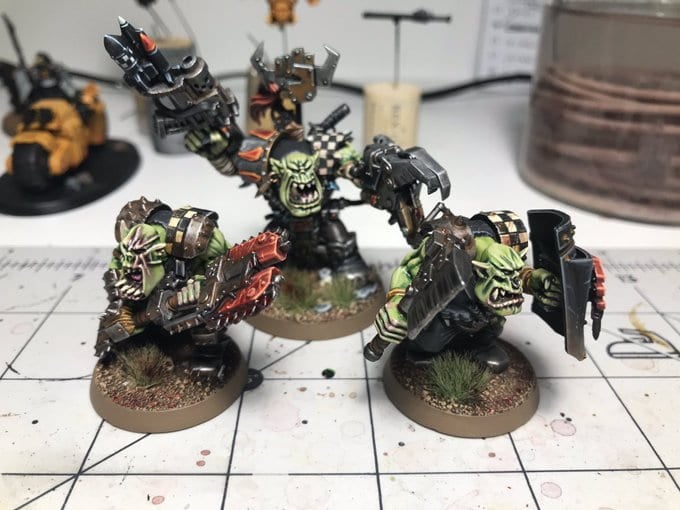 The next few posts will likely be about these guys as this is what I am working on at the moment.
That was a lot. More painting than I have ever done in a 6 month period. More to come.